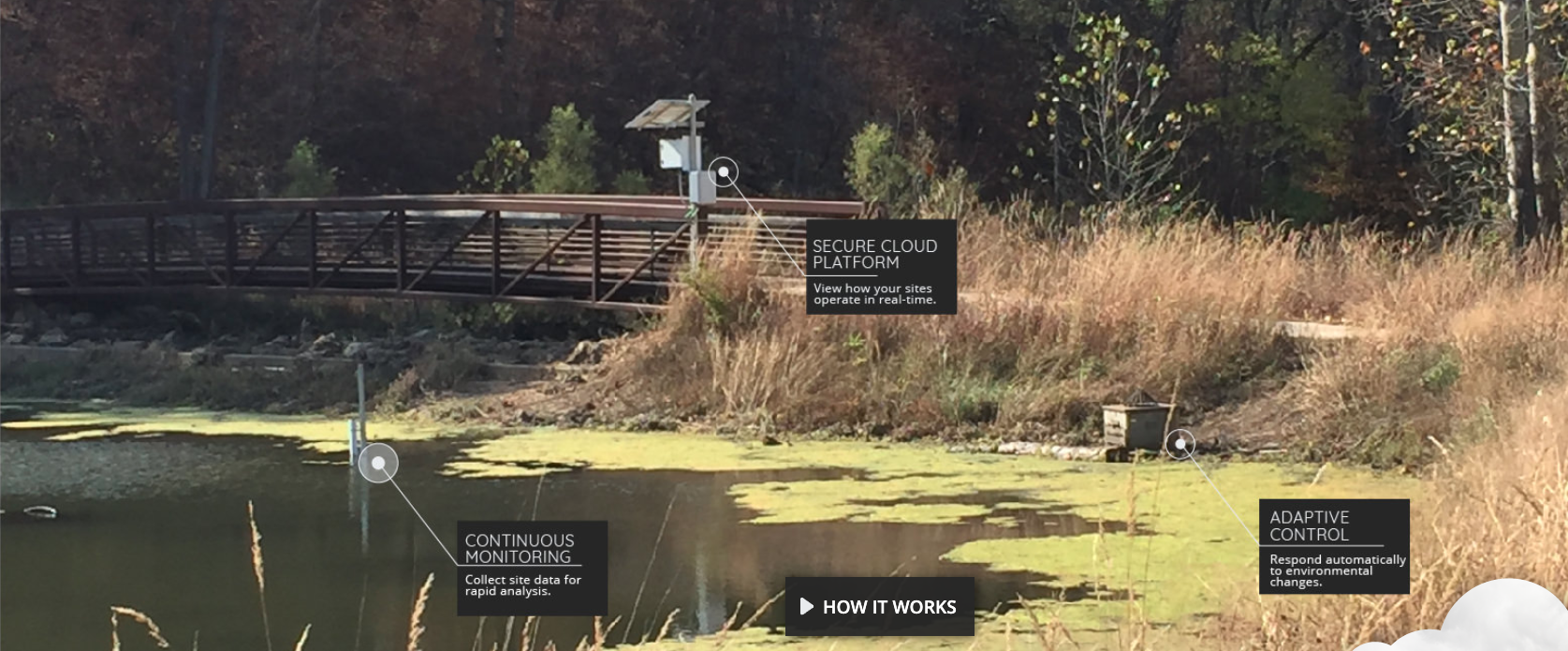 FOR IMMEDIATE RELEASE: August 20. 2020
National Stormwater Trust, Inc. (NST) is a stormwater management company that assumes the operation of existing stormwater ponds and deploys technology solutions from Opti to provide state-of-the-art stormwater treatment services that minimize operation and maintenance costs, reduce the risk of flooding, and benefit the environment.
By partnering with Opti and taking advantage of its market-leading expertise, NST can quickly and efficiently retrofit stormwater ponds with Opti equipment that enables remote operation and control thru Opti's online software platform. Opti and NST can convert a conventional pond into a "smart pond," improving its operational efficiency and water quality and flood control benefits. The smart pond technology proactively manages the collection, storage, and discharge of stormwater and provides real-time data that verifies water quality. Opti-equipped stormwater facilities are at least 60% more effective in treating stormwater than passive facilities, and Opti technology is 50% less expensive than traditional water quality enhancement methods.
NST's exclusive public-private partnership with the Florida Department of Transportation (FDOT) provides the opportunity to retrofit FDOT stormwater facilities with "smart pond" technology from Opti.
"We are proud and excited to be part of the NST–FDOT team.  This innovative program will accelerate water quality improvements for the State of Florida.  Private landowners and developers have a unique opportunity to improve our environment in a very economical and resilient manner." Says David Rubinstein, Opti's CEO.
ABOUT NST
NST, headquartered in Tallahassee, FL, can fully develop and manage existing stormwater facilities and create and oversee a program to generate incremental revenue to offset operation and management costs for entities like airports, seaports, state and local governments, education campuses, businesses, industrial and commercial parks, and retail and residential developments.
ABOUT Opti
OptiRTC, Inc., headquartered in Boston, MA, enables healthy watersheds and flood resilient communities. Local governments and commercial landowners across the US use Opti to proactively manage storm events and water resources and foster a more sustainable environment. Using weather forecasting and IoT technology, Opti solutions deliver predictive stormwater runoff control and insights into changing watershed conditions, providing water management professionals with peace of mind, especially when storms are on the horizon.
For more information email Jeff Littlejohn or call 850-363-9644.