By leveraging real-time weather forecasting and automated controls by OptiRTC, the water level in this innovative stormwater pond is actively managed to maximize its water quality treatment and flood protection performance.
Real-time, data-driven technology that provides visibility, trust and security can be installed at legacy and new stormwater facilities to increase treatment capacity, and provide valuable data to industries and governing agencies. Remote sensor technology can yield even more valuable data when installed at a regional level or along an entire transportation corridor.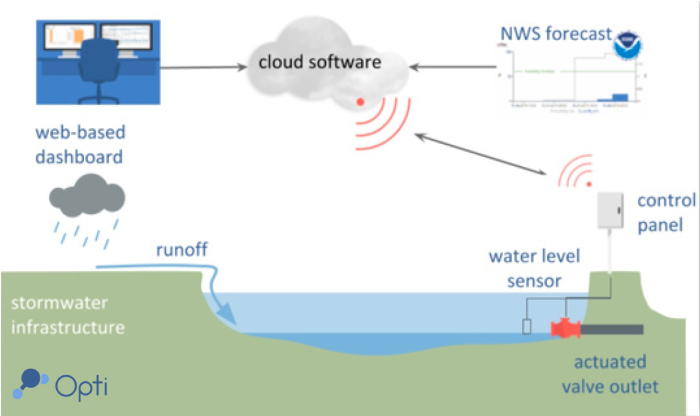 National Stormwater Trust, Inc. is a stormwater management company that assumes the responsibility for the operation of stormwater ponds and deploys the latest technology to provide state-of-the-art stormwater treatment solutions that benefit our partners and the environment. NST develops, permits and operates regional stormwater facilities, and can permanently reserve stormwater treatment capacity volume to offset stormwater treatment requirements associated with any size project.
NST helps maximize your developable property by providing off-site stormwater management and treatment. With off-site stormwater management, developable property can be retained for the highest and best use, and ongoing costs associated with pond maintenance are avoided. Under certain circumstances, existing ponds may be decommissioned and redeveloped after the required treatment services are relocated to an offsite NST facility.
NST can also take over the management of existing stormwater facilities, and create and oversee a program to generate incremental revenue for the owner. NST is interested in acquiring existing stormwater ponds at locations such as airports, seaports, state and local governments, education campuses, businesses, industrial and commercial parks and retail and residential developments. By centralizing the management of a large number of regional ponds, and using advance state-of-the-art treatment technology, we deliver efficient, professional services and improved regional water quality.