Does your community or project need a stormwater pond? To maximize design flexibility for its partners, National Stormwater Trust has created the Stormwater Nutrient Credit (SNC) market, a first-of-its-kind trading program that allows public and private developers to meet a portion of their stormwater treatment requirements by purchasing credits generated off-site.
DYK: Stormwater Nutrient Credits Can Help Your Development and the Environment
National Stormwater Trust (NST) proactively manages the collection, storage, and discharge of stormwater utilizing real-time data in a wireless, automated operating system. Also called "Smart Ponds," NST-managed stormwater facilities utilize Continuously Monitored and Adaptive Control (CMAC) technology to improve treatment performance and reduce flooding by controlling water levels and increasing the storage capacity of the facilities by drawing down water levels prior to forecasted rainfall. CMAC-equipped stormwater facilities are about 50 percent more effective in treating stormwater than conventional facilities and enable verification of water treatment performance in real time.
Through an agreement with the Florida Department of Transportation (FDOT), NST converts conventional FDOT stormwater ponds into regional Smart Ponds that generate Florida government-approved Stormwater Nutrient Credits (SNCs). NST offers the one-stop convenience of long-term stormwater compliance for developers seeking to purchase SNCs, and the knowledge that NST is providing the latest state-of-the-art stormwater technology and scientific and financial resources to provide green infrastructure solutions to Florida.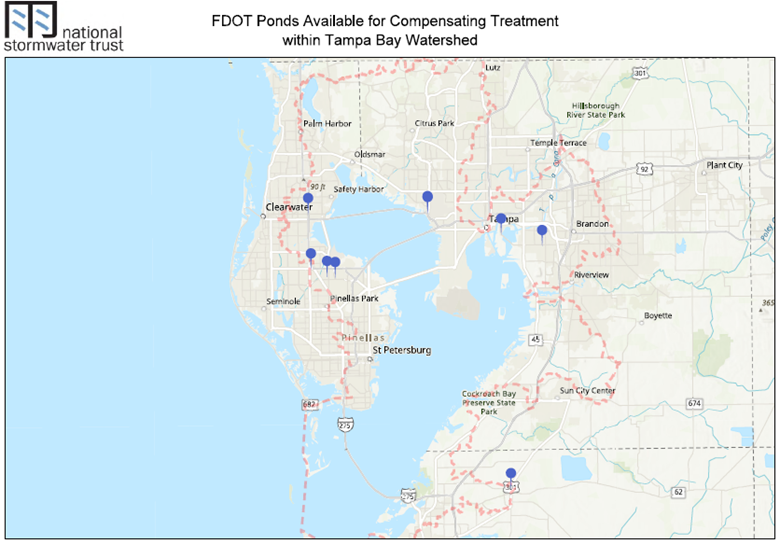 Purchasing SNCs is almost always more cost effective than 100 percent onsite stormwater compliance for construction projects, and can reduce the space required for stormwater management onsite. The additional space can be used for other purposes.
National Stormwater Trust has a limited amount of Stormwater Nutrient Credits available immediately in the Tampa Bay Watershed and has access to thousands of additional FDOT stormwater ponds across Florida to generate credits and meet your smart stormwater management needs. Bring the future of stormwater management to your project with regional Smart Ponds that improve water quality and flood protection resiliency in Florida communities.
For more information about National Stormwater Trust, to purchase Stormwater Nutrient Credits, or to talk to us about building a credit-generating project on your property, please contact: Jeff Littlejohn at jml@nationalstormwater.com