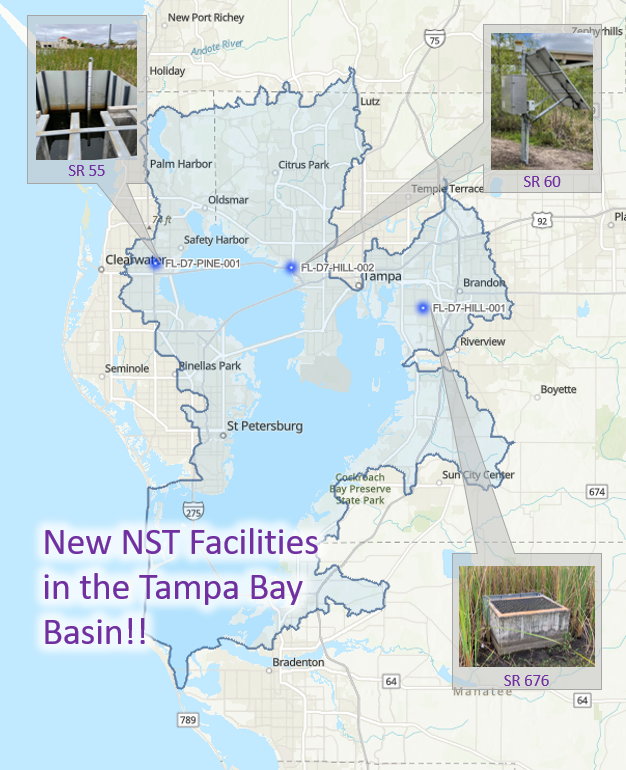 National Stormwater Trust is providing new, resilient stormwater technology installations on Florida Department of Transportation (FDOT) ponds in the Tampa Bay watershed! Have questions? Below are a few quick Q&As if you are currently developing a real estate project in the Greater Tampa Bay area [less than a 1-minute read]:
Q: Can I buy offsite stormwater treatment capacity instead of building a pond in my development? A: Yes, in most cases for commercial, industrial, or multi-family developments in and around the Tampa Bay Area, you can buy stormwater treatment capacity from us and use all of your property for development. This eliminates maintenance and risk management headaches of traditional stormwater ponds and vaults.
Q: Do I have to pipe the runoff from my development to the NST pond? A: No, you do not have to pipe your stormwater runoff to a FDOT pond and, in many cases, you can discharge directly to a tidally influence waterbody without any onsite attenuation.
Q: How can I buy offsite stormwater treatment capacity from the NST-FDOT public-private partnership? A: Direct message NST on LinkedIn, contact Mark Thomasson at mpt@nationalstormwater.com, or contact us through our website: www.nationalstormwater.com and we will get right back with you. We can even help your development team quickly estimate the amount of treatment capacity that you will need and will work with your architect or engineer to answer any questions.
Q: What is the process and how complicated is the purchase? A: It is not complicated at all! First, we send you a reservation agreement for the treatment capacity that you need, then we modify one of our permits to permit your stormwater treatment capacity in an FDOT stormwater pond. You pay one lump sum fee for only the treatment capacity that you need, which eliminates the time and cost of constructing your own pond and all future operation, maintenance, and repair expenses. The entire process is usually complete in 30 to 60 days.
Q: Is the price reasonable? A: Yes! The typical pricing is around the same or less than the cost to build a traditional stormwater pond and infrastructure, and far less than vault infrastructure. Also, it frees up somewhere between 10 to 15% of your property for development, and you have no long term, recurring operation, repair, or maintenance costs.
Q: What size projects can you handle? A: We can handle stormwater treatment capacity for any size project, from a fast-food restaurant to a large, multi-tract commercial, residential, or industrial development project (and everything in between).
Q: Can NST manage our current stormwater ponds or help us eliminate them through this program? A: Yes! NST can professionally manage your existing ponds and improve them with currently available technology to increase capacity, reduce flooding risk, and improve the removal of harmful nutrients. If you would like to remove and redevelop an existing pond and replace it with offsite stormwater treatment, please get in touch with us and we will help you develop a plan.
Contact us today to get started on your offsite stormwater project!